Rankings
IFLR1000's Rankings 2016
Banwo & Ighodalo is ranked amongst the regions best by IFLR1000's 2016 - a financial law publication which provides tiered rankings of leading global financial and corporate law firms for different regions, markets and practice areas.
Rankings are based on three key criteria: transactional evidence from the last 12 months of work, peer and client feedback conducted by means of online feedback surveys and phone/face-to-face interviews with ranked firms.
It is through the feedback and confidence of our clients in the firm, that the ranking for our Infrastructure practice has been upped to Tier 1. Happily, we also maintained Tier 1 rankings in our Banking, Capital Markets, Energy, M&A, Oil & Gas and Project Finance practices. Thus, for 2016, we have been featured in Tier 1 across 7 practice areas, making us one of only two Nigerian law firms to be so ranked.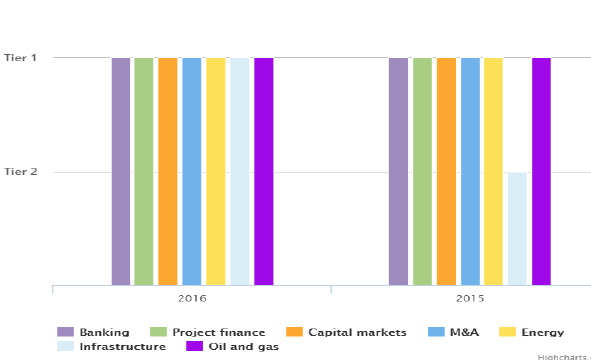 The Team at B&I is delighted about this recognition. As ever, we are grateful to our esteemed clients, whose custom and support over the years assure the continued success and growth of our firm.
"

Highly regarded group that possesses considerable expertise in capital markets and loan transactions."

Chambers Global 2017

Well known for advising a number of major commercial banks and domestic financial institutions, as well as working ..."

Chambers Global 2017

Possesses extensive experience structuring financial transactions and advising on regulatory matters."

Chambers Global 2017

Increasingly active in transactions and financings involving the oil and gas and power sectors."

Chambers Global 2017

Market-leading team that is highly regarded for its work in the capital markets space, working with high-profile ..."

Chambers Global 2017

Possesses a wealth of experience across several areas and well placed to handle matters relating to government ..."

Chambers Global 2017

Frequently acts for oil and gas companies, investment companies and private equity funds"

Chambers Global 2017

Well-regarded firm with a practice covering arbitration, litigation and alternative dispute resolution."

Chambers Global 2017

Works with local and international clients in areas such as oil and gas, pharmaceuticals and energy."

Chambers Global 2017

Intertwines corporate and litigation practices to help financial and corporate clients navigate the legal landscape."

Chambers Global 2017

Experienced in a range of disputes, including employment and asset recovery"

Chambers Global 2017

Solid practice within a well-regarded Nigerian firm."

Chambers Global 2017

Noted for its activity in anti-counterfeiting, as well as its capable handling of copyright and trade mark ..."

Chambers Global 2017

Talented group that offers extensive experience handling high-profile energy clients on various complex natural ..."

Chambers Global 2017

Recognised for its involvement in gas supply and utilisation, engineering procurement and construction and ..."

Chambers Global 2017

Also well experienced advising international and domestic investors looking to develop projects in Nigeria in ..."

Chambers Global 2017

Increasingly visible on power mandates, particularly on renewable energy matters."

Chambers Global 2017