Rankings
Banwo & Ighodalo retains top rankings in The IFLR1000 2019 rankings
Banwo & Ighodalo has retained its leading position as a top tier firm across all financial and corporate areas in the 2019 IFLR1000 rankings, for the third year in a row. In addition, eleven of the firm's lawyers are also recognized in several practice areas by the directory.
Client Feedback
"Banwo & Ighodalo is very knowledgeable and pays attention to detail. The quality of their work is first-class. The firm's strengths include pragmatism, thinking out of the box and thoroughness. There is adequate senior lawyer involvement and supervision, and this reflects in the quality of output. However, the firm is a bit expensive, and is often less competitive than its peers."

Banking

"Generally very good service especially in relation to practical objectives and support (such as filings, document execution, corporate maintenance). Advice is generally of a good quality. Billings are reasonable and fair."

Project Finance

"I have found that the lawyers are generally prompt and responsive, and do not rigidly watch the clock. They understood that we were new to doing business in Nigeria and were accommodating in addressing our queries on the Nigerian legal and regulatory framework."

Banking & Finance

"Local advice was concise and all timelines were met. We appreciated the clarity of the advice given, including a detailed explanation of the options available to our common client."

Banking & Finance

"Strength: Responsive and able to address queries effectively and quickly. Weakness: Expensive, both in terms of the scope of work required and compared to other Nigerian law firms."

Banking & Finance

"Very responsive attorneys and great depth of knowledge of Nigeria law and project financing issues. They work efficiently and also very cooperatively with foreign UK counsel."

Project Finance
The IFLR1000 is the guide to the world's leading financial and corporate law firms and lawyers. Its rankings are based on a range of criteria including technical ability, market share, reputation and client care.
Banwo & Ighodalo remains top law firm for:
Banking

Capital Markets

M&A

Project Development: Infrastructure

Project Development: Oil and Gas

Project Development: Power

Project Finance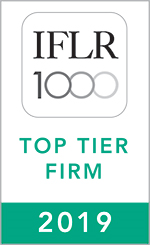 "

Highly regarded group that possesses considerable expertise in capital markets and loan transactions."

Chambers Global 2017

Well known for advising a number of major commercial banks and domestic financial institutions, as well as working ..."

Chambers Global 2017

Possesses extensive experience structuring financial transactions and advising on regulatory matters."

Chambers Global 2017

Increasingly active in transactions and financings involving the oil and gas and power sectors."

Chambers Global 2017

Market-leading team that is highly regarded for its work in the capital markets space, working with high-profile ..."

Chambers Global 2017

Possesses a wealth of experience across several areas and well placed to handle matters relating to government ..."

Chambers Global 2017

Frequently acts for oil and gas companies, investment companies and private equity funds"

Chambers Global 2017

Well-regarded firm with a practice covering arbitration, litigation and alternative dispute resolution."

Chambers Global 2017

Works with local and international clients in areas such as oil and gas, pharmaceuticals and energy."

Chambers Global 2017

Intertwines corporate and litigation practices to help financial and corporate clients navigate the legal landscape."

Chambers Global 2017

Experienced in a range of disputes, including employment and asset recovery"

Chambers Global 2017

Solid practice within a well-regarded Nigerian firm."

Chambers Global 2017

Noted for its activity in anti-counterfeiting, as well as its capable handling of copyright and trade mark ..."

Chambers Global 2017

Talented group that offers extensive experience handling high-profile energy clients on various complex natural ..."

Chambers Global 2017

Recognised for its involvement in gas supply and utilisation, engineering procurement and construction and ..."

Chambers Global 2017

Also well experienced advising international and domestic investors looking to develop projects in Nigeria in ..."

Chambers Global 2017

Increasingly visible on power mandates, particularly on renewable energy matters."

Chambers Global 2017