Banwo & Ighodalo sweeps the board at the Legal 500 (EMEA) Rankings 2023
Posted on Wed 19 Apr 2023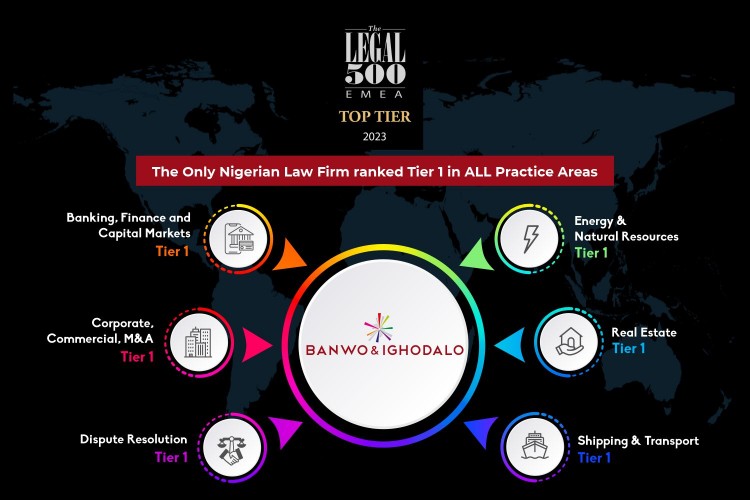 In its characteristic excellence, Banwo & Ighodalo, for the fourth year running, has emerged the only Nigerian law firm with Tier-1 ranking across all ranked practice areas in the recently released Legal 500 Europe, Middle East and Africa (EMEA) Guide 2023.
Yearly, the prestigious Guide highlights the practice areas of Law Firms, who are providing the most cutting edge and innovative advice to corporate counsel in the EMEA region, covering over 80 countries and benchmarking over 2,700 law firms against globally acclaimed criteria required by today's in-house counsel and business leaders. The Guide also recognizes and ranks the leading individual counsel in the region.
2023, like the previous three years, saw Banwo & Ighodalo sitting at the apex of the rankings in the six broad practices covering Banking, Finance and Capital Markets; Commercial, Corporate and M&A; Energy and Natural Resources; Real Estate and Construction; Shipping and Transport; and Dispute Resolution.
Founding partner Asue Ighodalo, a leading light in Corporate Nigeria and well-known authority in the legal services industry, joins the group of elite partners across the globe listed in the Legal 500 Hall of Fame, for his world-class expertise in the commercial, corporate and M&A category.
Ken Etim, the firm's Managing Partner and a renowned energy lawyer, is listed as Legal 500 Leading Individual. The firm's Head of Dispute Resolution, Abimbola Akeredolu, a Senior Advocate of Nigeria and Chartered Arbitrator is also listed as a Leading Individual. Other partners in this category include Ayotunde Owoigbe, a Capital Market, Banking, Finance, M&A expert, Kehinde Ojuawo (energy and natural resources & shipping and transport), Olumide Osundolire (real estate and construction), and Azeezah Muse-Sadiq (banking, finance and capital markets).
Four Banwo & Ighodalo partners make the list of Legal 500 Next Generation Partners. They are Isa Alade (banking, finance and capital markets), Seyi Bella (banking, finance and capital markets), Chinedum Umeche (dispute resolution), and Akindeji Oyebode (energy and natural resources).
Two Senior Associates of the firm, Olamide Oshikoya (real estate and construction) and Sixtus Iwuoha (dispute resolution) are both listed in the Legal 500 Rising Star category.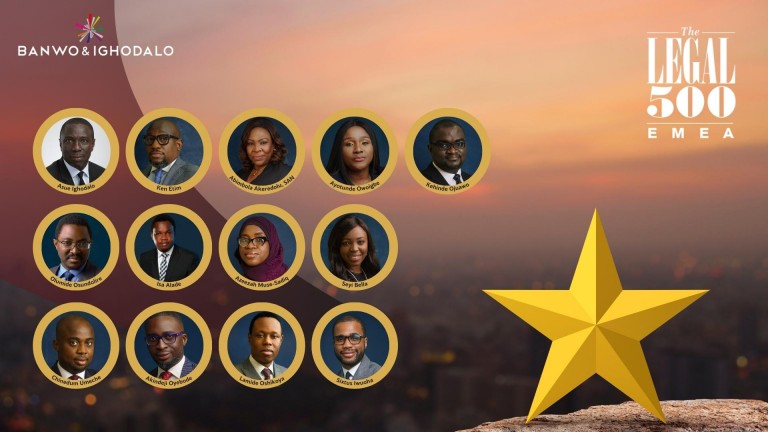 These rankings come on the back of recent international recognitions and awards for Banwo & Ighodalo and its lawyers and are a testament to the skills and combined expertise of the various specialized teams across the firm's practice groups. This is a great outcome for the firm and a confidence booster for its diverse clients who have continued to trust the firm with their most complex transactions and legal matters.
#Legal500EMEA2023
#Tier1Rankings
#HallOfFame
#LeadingIndividuals
#NextGenerationPartners
#RisingStars
#BanwoandIghodalo
#ExcellentMindsExcellentSolutions